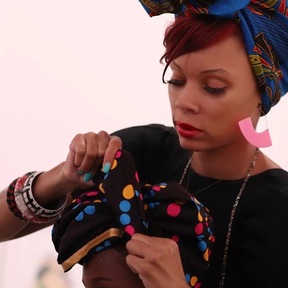 Greetings! I'm Attallah Pamoja. Afro-Latin, born in Panama (Central America) to Panamanian/Costa Rican parents. My family later moved to Brooklyn, NY. As an adult. I relocated to Atlanta where I began a career as an educator and now I coach educators! I started modeling over 20 years ago and am now also a model/runway coach. I've had the pleasure of collaborating with artists like Vek Neal and Tim Okamura, posing for them as a muse/portrait model.
In 2018 I had the honor of walking the runway for Lisa Nicole Collection at New York Fashion Week. I am a collaborative wardrobe stylist/creative who works on anything from video sets, fashion shows to photo shoots. I specifically love working with vintage clothing/accessories and as a Headwrap artist. My online presence/company is Design Our Lives. I recently (in 2015) became a court appointed child advocate in Atlanta. I'm a proud mentor of about 10 years to a now 20 year old Georgia State College student! In 2016 I became a child sexual abuse prevention facilitator through Darkness To Light. I was trained at The Georgia Center for Child Advocacy.
I am available to facilitate child sexual abuse prevention workshops at youth - serving organizations, places of worship and with any concerned professionals/community members. I regularly do speaking engagements at schools etc and speak on advocating for children/girls. In 2019, I became a certified cultural competency facilitator. I help organizations open up the conversations on race, gender, sex, attraction, ability etc and understand what it means to be inter-sectional. As you may be able to tell, I believe in doing all things I love and I want everyone to be able to design your life!
No followed people