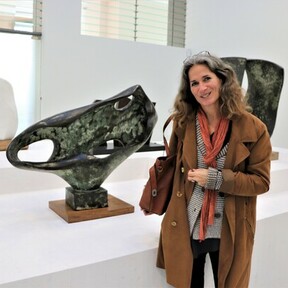 "If I waited for perfection, I would never write a word," Margaret Atwood once said. I agree with her. I actually think that this goes for everything - speaking a foreign language, speaking in public, producing a film, acting, painting, or doing anything else that our hearts desire. Therefore, if you'd like to either learn or improve your German or English or get some practice in writing, I would love to help you. I was born and raised in Germany. I lived in the US for a total of 25 years, where I was a foreign student at Santa Monica College and UCLA and worked as a freelance journalist for LA art magazines, the Los Angeles Times, and international publications. I was also a language teacher for German and English at Xiamen University in China, EC Language Center in London, and other language schools throughout Los Angeles. Besides, I'm currently teaching at Le Comptoir des Langues in Paris.
Credentials & Qualifications:
I hold an Associate of Arts Degree from Santa Monica College and a Master of Arts Degree in American Studies, journalism and psychology from the John F. Kennedy Institute of the Free University of Berlin. I studied journalism in the US and Germany and did two internships in the field of press and program-organization. One was at Berlin Verlag ( a literary publishing house in Berlin ), where I learned how to create press reviews and to write blurbs and at the American Academy in Berlin, where I was a research assistant to the Berlin Prize Fellows, created press reviews, wrote the introductory speeches for talks and lectures at the Academy and the texts for program brochures. I also hold a TESOL certificate.
No followed people